E-commerce
Take your business online with a Shopify store
Our e-commerce services include:
Shopify store setup and management
Payment gateway & rewards program integration
Content creation
Chat management
Paid advertising and analytics
— View our Shopify e-commerce services
Overview of E-Commerce in Southeast Asia
Having the world's third-largest population, Southeast Asia has earned global recognition for e-commerce. Despite being in its early stage, the Southeast Asian e-commerce market promises tremendous opportunities for international businesses willing to take on the new venture.
Plus, with the overall massive population, it's no surprise that e-commerce in SEA continues to boom year over year based on GDP and more. Speaking of GDP, e-commerce has significantly contributed to the region's gross domestic product in 2018. As a whole, Southeast Asia had a share of 2.8% in gross merchandise value (GWM) of the internet economy. Vietnam topped the list with 4%, followed by Singapore (3.2%), Indonesia (2.9%), Malaysia (2.7%), Thailand (2.7%), and Philippines (1.6%).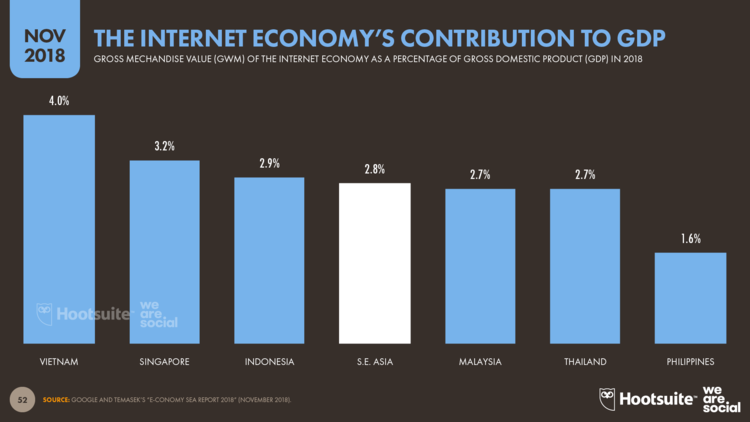 Southeast Asia E-Commerce Statistics
Moreover, the Southeast Asian internet economy is expected to grow to $200 billion in the next decade, with a jump of $88 billion by 2025. This is mainly a result of a significant increase in online users from 260 million to 480 million by 2020.
How to win cross-border e-commerce in Southeast Asia
However, the region faces quite a few e-commerce challenges due to many factors, such as geography, population growth, distinct cultures, and inconsistent payment methods among others.
Nevertheless, the market remains an assuring and profitable sales avenue for your business. And there are many ways to turn these challenges into opportunities.
There are plenty of e-commerce platforms in the Southeast Asian market that can give your sales a lift. And to succeed in a competitive space, you must be willing and able to give your business an e-commerce boost of a trust level. Conquering a market is one thing, but winning the whole region is an even bigger accomplishment for your business.
Why your business needs an online store
Before we delve deeper into the hows, let's first take a look at why your business needs an online store.
Many retailers have flocked to online shopping platforms. Why? Simply put, consumers love convenience. The overall online shopping experience has become more and more seamless each time. While your customers catch up with all the development, you too should keep up and stay abreast among your competition.
So, if you are a retailer, it is important that you have an online store. Besides having your consumers online, it also provides cost-effective solutions for your business.
Build your online store with Shopify
Online selling offers a lot of growth opportunities to international brands like you. While there are many online marketplaces and platforms to choose from, it is necessary to find a platform that lets you seamlessly manage your online stores across the border in one place.
With Shopify, building and managing multiple stores is easier and more efficient. Whether you're looking to put up a Singapore, Malaysia, Indonesia, Thailand, Vietnam or Philippine online shop, you can do these all in one platform.
At present, Shopify powers over 1 million businesses in more than 175 countries worldwide. And in Singapore, renowned brands like Secretlab SG, Robinsons, Clarks, Super Dry, Sennheiser, and OSIM are using Shopify for their e-commerce marketing.
Direct-to-Consumer E-commerce Agency: Shopify Store Setup & Management
Digital 38 is a digital marketing agency headquartered in Singapore, specialising in direct-to-consumer (D2C) marketing. As we have offices across Southeast Asia and Greater China, we can provide simplified and straightforward marketing services spanning the region.
We can help you build a successful Shopify store that can cater to your target markets in the region. Not only we can set up and manage it for you, but we can also do the D2C coordination within our in-house teams. This way, you can focus on running your business while we do the marketing for you.
Also, as a long-standing digital marketing agency, we can help give your online business an extra boost with social media marketing and digital advertising. With our solid digital background, we can launch various campaigns, including Facebook and Instagram Ads, SEM, YouTube Ads, and more.
Our Full E-Commerce Services
Here's a summary of what we can do to help bring your business online:
Shopify store setup and management
Customer relationship management (CRM)
Integration of payment gateway and relevant apps (e.g. rewards/loyalty & referral program, global translation)
Other e-commerce boosters to support your Shopify store:

Blog setup and SEO content creation
Social media page management (e.g. Facebook, Instagram)
Domain purchase
Media buy (e.g. Google Ads, YouTube Ads, Facebook/Instagram Ads)
If you're interested to know more about our e-commerce packages, contact us today to schedule a quick chat soon.
Grow your business with a Shopify store. Get started today.